Fr. Murray was called to the Lord on 2nd November 2018
What's happening
Masses In English
Sunday - 10:30 am. & 12:00 noon.
Tuesday, Wednesday & Thursday 12.30 pm.
Exposition of the Blessed Sacrament at 11.30 a.m.
Sacrament of Reconciliation Every Saturday 3.00 p.m. - 4.00 pm.
During this Hour, the Blessed Sacrament will be exposed.
What's happening
Parish Groups
The Parish of the Blessed Trinity offers many ways for parishioners to become involved and active both by furthering their understanding of the faith through continued education programs and/or by contributing time to one of our many parish activities.
Christian Aid Group
The Christian Aid Group offers help and advice on social and financial matters. They are available for consultation after both Sunday Masses.
Choirs
The Parish has four choirs that celebrate the Word of God in song.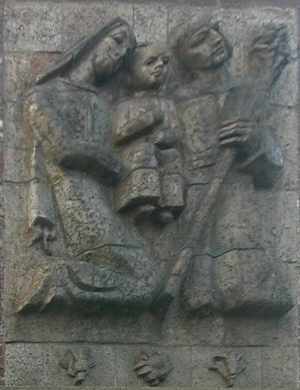 The Parish of the Blessed Trinity is under the pastoral care of Father Thomas Murray in the Holy Family Church. It is a charming "village church" in the Betondorp district of Amsterdam East. The church has two aisles with a small bell tower next to the choir, built in traditionalist forms under the influence of the Delft School. Many interesting details, including two stained-glass windows in the choir. The church has members of about 48 nationalities.
Daily TV Mass
God reaches us in more than one ways; in fact he reaches us in multitude of ways. The electronic media has helped bring Mass right to the homes of people through the TV and in more recent times through the Internet. Here's a link to hear Daily TV Mass right from your home!
Registration Form
Please download the form and submit it duly filled to the Church office.
Click here for Word.

Click here for PDF.

Registration Form